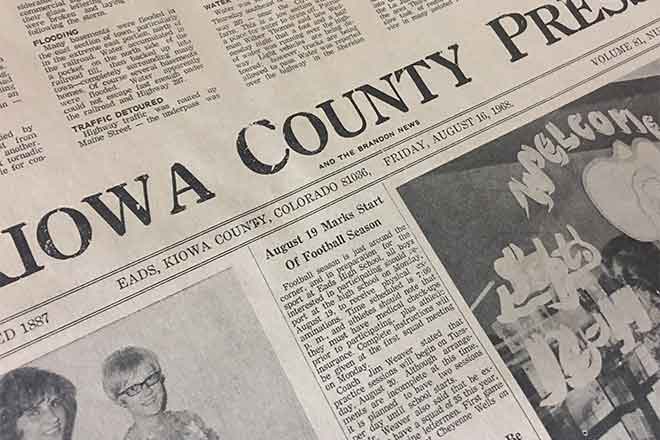 Published
Sunday, December 25, 2016
15 Years Ago
December 28, 2001
Wild Horse Roundup-Curtis Schrimp: Going through a little metal box I found some tokens that was used for sales tax years ago. These had the name Lindquist who had the store probably 1909 or 1910
25 Years Ago
December 26, 1991
Once more Kit Carson area residents will be able to take one of local artist, Glaida Craven, courses through Lamar Community College
The overall assessed value of Kiowa County rose almost $2 million dollars
40 Years Ago
December 24, 1976
NOTICE: To call Eads Police Dept. call 5438405. If no answer call 4385886. If still no answer call 3367404 or 3367403 state your business and the Lamar radio station will radio it to the Patrol Car.
50 Years Ago
December 23, 1966
Beside the free show at the Plains Theatre Santa will be on hand to greet the youngsters with free treats.
75 Years Ago
December 19, 1941
A large crowd from every town in Kiowa County gathered at the courthouse to hear R.P. Lewis discuss home defense organization.
100 Years Ago
December 22, 1916
J.W. Blair added 3 more geese to his string of eight this week. This makes 11 for JW.