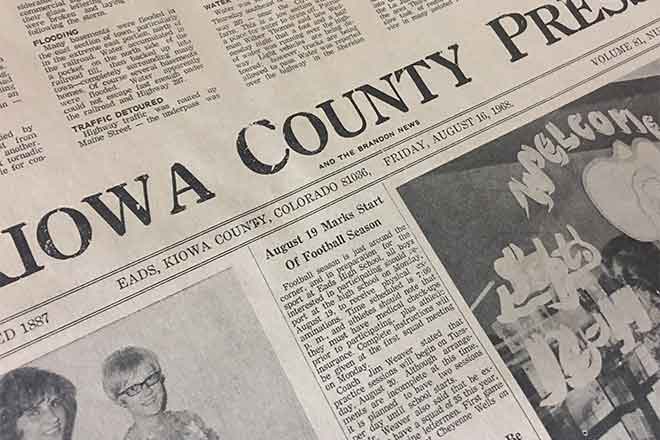 Published
Saturday, January 14, 2017
15 Years Ago
January 11, 2002
The Kiowa County Economic Development Foundation teamed up with Colorado Tree Coalition Grant Program to plant 36 trees & remove stumps this past year, in Arlington, Haswell, Eads, Brandon Sheridan Lake and Towner
A number of Haswell folks enjoyed a card party on New Year's Eve at the center. Real fun for all!
Wild Horse Roundup-Curtis Schrimp: New Year's Eve, 14 people gathered at the schoolhouse & played 10 games of pitch
U.S. Senator Wayne Allard will hold a Kiowa County town meeting in Eads
25 Years Ago
January 9, 1992
Weisbrod Nursing Home residents could hardly believe their good luck when the Sheridan Lake Lions Club walked in with a big sack of peanuts and peanut brittle. Also a large box of apples and oranges.
40 Years Ago
January 14, 1977
Marvin A. Appelhans filed suit in district court to overturn the rejection by the Kiowa County Board of Commissioners of his application to sell 3.2 beer.
The Liberal KS man found dead on Maine St in Eads Christmas Day died of a heart attack.
The Eads board of trustees zipped through a brief agenda in record time for them. They rejected a4-year terms for trustees and any action of formation of a recreation district.
Potpourri: As usual, the Super Bowl was not quite super. It was dull.
Potpourri: Home Demonstration: Proud owner of a new bowling ball and a hole in the wall is our town's Bert Howerton. Taking the ball out of its carton, Bert decided to show daughter, Connie, how the shiny ball worked. A little too hard, however, and knocked a hole in the living room wall.
The Colorado Farm Bureau is requesting Governor Lamm to initiate immediately a statewide weather modification program to help relieve Colorado's severe drought problems.
50 Years Ago
January 13, 1967
Keith and Mary Lea Wissel announce the grand opening of Wissel Dry Goods formerly Smith Dry Goods.
RE-1 Superintendent ask the board to decide if the Activity Bus was to leave hard surface road from Eads to Haswell and return
100 Years Ago
January 12, 1917
Those familiar with James Lang's automobile hard luck will consider this a real news item. He wnt out for a ride Sunday some distance from town & and returned without being towed in.
Louie Wilson is now editor and manager of the Kiowa County Press.