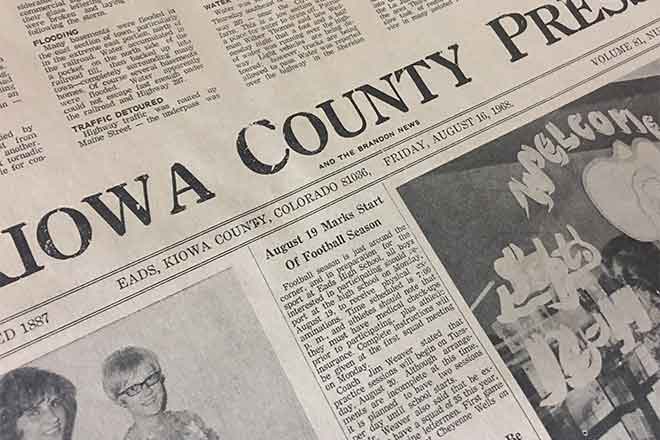 Published
Saturday, October 1, 2016
15 Years Ago
October 5, 2001
According to Gay Uhland, Kindergarten teacher at Eads Elementary, the elementary students collected over 150 stuffed animal to donate to the children in New York to comfort the victims of September 11 tragedy.
The CO Department of Agriculture issued a cease and Desist order to Arriba Grain, Inc, in Arriba September 27. The order does not allow any grain to be purchased or accepted for storage until the company comes into compliance.
Justin Crow was named "Taco John Player of the week" during the Eads-Cheyenne Wells game.
Wild Horse Roundup - Curtis Schrimp: My column this week is going to be a little like the Broncos today-I'm afraid it's going to be lacking a little something.
25 Years Ago
October 3, 1991
The search for a new doctor to serve Kiowa County is underway again. The recruiting firm hired to help find a new doctor had been put on hold in August until Dr. Hon Hadley could be interviewed by the Weisbrod Board.
On Sept. 15 nearly 100 relatives of Bessie Short gathered at the Senior Center in Seibert to honor her on her 105th birthday which was Sept 10.
Residents of eastern Kiowa County can now dial 911for their emergency needs, the county sheriff office reported Monday.
Jim Rehfeld of eastern Kiowa County was honored at the recent annual meeting og the lower Arkansas Valley Watershed Association at their Conservationist of the year
40 Years Ago
October 1, 1976
.The State Board of Equalization approved Kiowa County assessor Jimmy Bendorf's assessment of property in the county after hearing Bendorf tell them, firmly, "In my opinion, property is correctly valued by my office.
Students who are absent from school until Oct. 22 cost the school district $75 a day per absence, according to a report by Superintendent Robert Woods to the Re-1 school board.
Towner Tales" Best news we have had this week, is the nice rains in the area. It will really help the wheat.
.
50 Years Ago
September 30, 1966
Quite a few wheat growers have reported lost of new wheat to grasshoppers
A public meeting has been called by local people, who are interested in establishing a teenage recreation center in Eads.
Haswell Happenings: Wheat planting is almost completed in our community and last night rain was most certainly welcomed by all.
75 Years Ago
September 26, 1941
Dr. Theo. M. Hotopp, formerly of Glenwood Springs, CO, has now located in Eads and will occupy the former offices of the late Dr. J.G. Hopkins, which are being remodeled. Until his office is ready he will be located at the Rialto Hotel.
100 Years Ago
September 29, 1916
Ye editor is indebted to J. Beltz for the finest watermelon we have seen this season. It weighed almost 30 pounds and was a dandy.