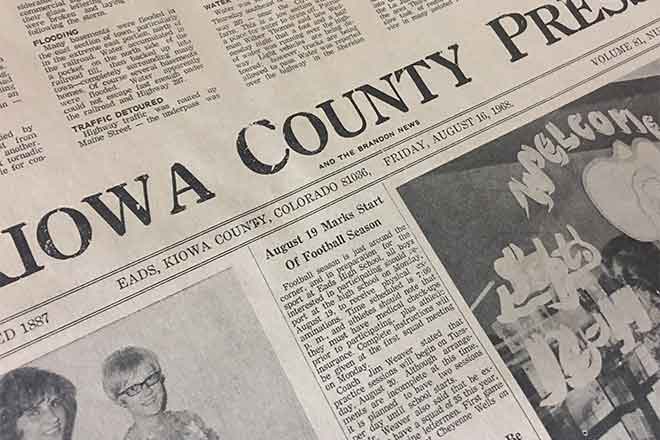 Published
Saturday, March 11, 2017
15 Years Ago
March 8, 2002
Picture by Cecil Crockett had debris up to six feet deep from a dirt storm in February. Dirt and sand accumulated several inches deep in the yard and drive.
25 Years Ago
March 5, 1992
Kiowa County assessed value rose 6% in 1991
Haswell community continued to circulate petition seeking to recall four Kiowa County RE-1 board members
Weisbroad Hospital and Nursing Home bans smoking inside the building. The exception to this ban is a room has been set aside for the nursing home only may smoke.
Rachel Davis won the Regional Daughters of the American Revolution essay contest
40 Years Ago
March 11, 1977
Close to 300 farms and almost 200,000 Acres in Kiowa County under emergency tillage.
Ten per cent of the wheat may have been destroyed and 60% of the remaining plantings are in serious jeopardy.
Outline of the proposed Arkansas Valley Conduit, which would carry municipal water to communities, including Eads, downstream from the Pueblo Reservoir.
Nine Eads High School students are learning in the traditional way about Europe, but soon will be touring the continent to learn first hand. Raeann Kelley, Christie Kelley, Linda Oswald, Mark Forsyth, Debbie Oswald Shelly Shotton, Robert Daniels, Dawn Gulley and Bill Dawson will leave April 5 for Italy, France and Switzerland.
50 Years Ago
March 10, 1967
A large portion of eastern Colorado received temporary relief from the drought as result of a snowstorm that blanketed the area with about 3 inches of snow.
75 Years Ago
February 27, 1942
The Kiowa County basketball tournament to be held in Eads with Towner favored to win the championship. There will be a special girls game between the Brandon and Towner girls' teams.
The local rationing board is awaiting supplies and information on the sugar quota for Kiowa County, and state that until such are received restrictions are not in operation.
100 Years Ago
March 9, 1917
The largest cattle sale ever held in Kiowa County took place at the C.W. Sweitzer ranch on Rush Creek. About 525 fine young cattle were sold at public auction with total sales amounted to over $28,000.