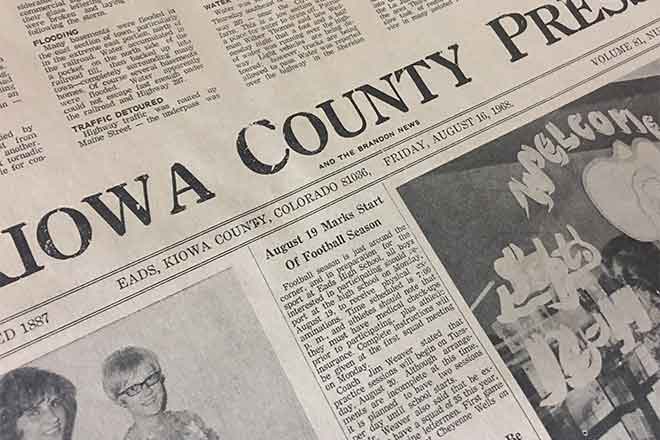 Published
Saturday, May 6, 2017
15 Years Ago
May 3, 2002
Eads Middle School students took home more awards than any other school in Colorado for Colorado Law Enforcement Officers Association writing contest.
USDA Update-Rod Johnson: April 26 some of Kiowa County finally received rain! Eads had .3. Now Eads weather station is showing only 75% below normal precipitation for April
25 Years Ago
April 30, 1992
Election on the agenda. School Board RE-1, Weisbrod Hospital District and the Soil Conservation District.
Rumor has another convenience store will be closing in a week or two. A vendor reportedly has been ask to pull his merchandise from the shelves.
Betty Jacobs won $50 in lottery bucks and has a shot at $1000 cash prize.
Several hundred Rio Grande turkeys have been transplanted to Colorado. They are to be released in several areas of southeast Colorado.
Students and teachers from Plainview School observed Earth Day by cleaning around the school and in Sheridan Lake, Towner and Brandon. Two student groups also planted trees.
40 Years Ago
May 6, 1977
Only 73, out of 948 registered voters, turned out to cast ballots in the RE-1 school district election.
The Eagle Spirit All Sports Banquet has been opened to anyone wishing to purchase a $3.75 ticket. Because of seating capacity, reservations will be limited to the first 300.
50 Years Ago
May 5, 1967
Winter returned to the area. Local weather observer, Warner Wimp reported .17 inch of precipitation.
The old yellow street lights which have been in service in Eads for many years are a thing of the past. New mercury vapor street lights are being installed throughout the town