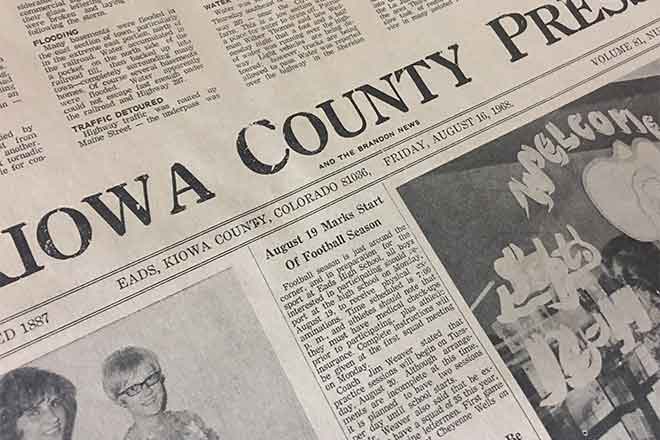 Published
Saturday, August 18, 2018
15 Years Ago
August 15, 2003
Wild Horse Roundup-Curtis Schrimp: "I went out to get in our van to go to Hugo. I looked west & a fire was just starting on the edge of the highway, and in seconds it was a big blaze."
25 Years Ago
August 18, 1993
A severe thunderstorm moved across north central Kiowa County August 13. Three horses belonging to Larry Meeks of Chivington were struck and killed by lightning.
40 Years Ago
August 18, 1978
Down with the old - the roof of the building at 1213 Maine is being torn down to eventually make room for the new one. The roof collapsed under the heavy wind and rain in July. Damage estimated to the building is between 15 and 18 thousand dollars.
Sheridan Lake-Mrs. Oren White: "According to the way some other folk did not answer their telephone when ye scribe called this week they, too, must be vacationing before school starts, helping with field work or just plain went to town. Now you know why you have such a short new column."
50 Years Ago
August 16, 1968
Cloud burst dumps 6.15 inches of rain in Eads. August 14, 1968, will no doubt be remembered for many years by most Eadsites, as the day when it really RAINED.
Announcement was made that Aspen Ski-Wear of Denver may locate a sewing factory in Lamar.
Brandon News: Brandonites had the wettest month of the year in July with 3.56 inches recorded moisture.
"A Date with the Angels," the demonstration given by Charlotte Peterson and Mary Berger, was one of the four 4-H Home Economics team demonstrations chosen for state-wide competition to be given at Camp Tobin.