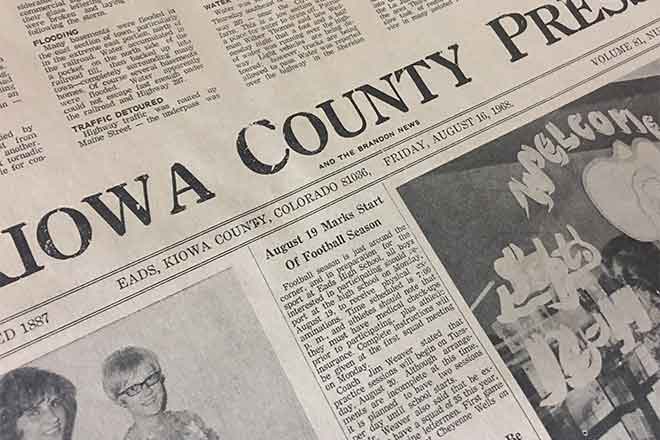 Published
Friday, August 23, 2019
15 Years Ago
August 20, 2004
About Town- Ida and Doris Lessenden: The people who went to the Community Building to have potluck dinner with the Arapaho and Cheyenne Indians were thrilled to see and hear the dancers and speakers.
East End events-Lana Weber: Deb Shivers traveled to Florida for a last-minute vacation. She was lucky enough to see the launching of the Atlas rocket being sent to Mercury.
25 Years Ago
August 26, 1994
Dawna Peck, Deputy Town Clerk for the Town of Eads, has graduated from the Colorado Institute of Municipal Clerks.
Nursing Home News-LaVerne Fischer: A group gathered on the patio to listen to the music of Tim Hogan and Jerry Jones.
Kiowa County had the Champion and Reserve Champion in 10 heads of hybrid grain sorghum at the Colorado State Fair.
40 Years Ago
August 24, 1979
The all-new Jungle Wonder Wild Animal Circus will be coming to Eads. The big top circus, with a giant 80'x150' tent and seating capacity of 1500, will be setting up at the Kiowa County Fairgrounds.
From the Sheriff's Desk-Floyd Griswould: Once again our jail is empty. But I have my doubts it will be empty for long as we have two arrest warrants to fill in the near future.
50 Years Ago
August 22, 1969
Eighteen years is a long time between one family reunion and the next, but the children of Mr. & Mrs. M.A. Hawk had one this week when they met in the home of Mr. & Mrs. Francis Frazee. Mrs. Frazee reported instead of having one big dinner, as customary, there is a big dinner every day with the whole family visiting and catching up.