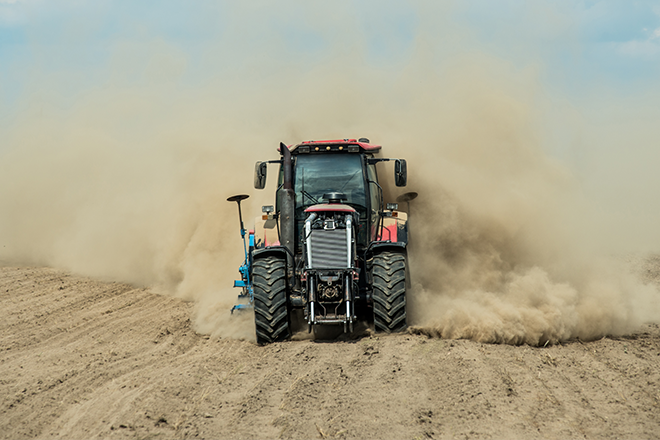 Published
Monday, June 4, 2018
With drought conditions continuing over one-third of the state, The United States Department of Agriculture and Small Business Administration have added seven more counties to the list receiving primary disaster designations from the two agencies. Primary counties now account for 31 of Colorado's 64 counties. Eleven more are eligible for assistance as neighboring counties.
Drought conditions, which began to increase in December, moderated slightly in the northeast portion of the state this week, however the worst conditions remain firmly entrenched in the rest of the state.
As counties have been designated in groups since early March, varying eligibility dates have been created as neighboring counties received designations at different times. For example, a county surrounded by four other counties could become eligible up to five times: four if each of its neighbors receives a primary designation on different dates, and once for its own primary designation.
Further confusion arises when a county receives a primary designation, and a neighboring county is designated later. In most cases, the more recent date - whether primary or as an adjoining county - will determine the deadline for assistance applications. Applications are due eight months after the most recent designation date.
KiowaCountyPress.net has developed the interactive map below to help sort through designation and eligibility dates. Red shading indicates a county which has received a primary designation, while yellow shading indicates a Colorado county that neighbors a primary county. Counties in other states that share a border with a Colorado primary county are also eligible to apply for assistance. Counties shaded grey do not currently have a designation for drought. San Juan county is shaded blue since it received an SBA-only primary designation.
Additionally, the USDA has designated a number of Colorado counties eligible for disaster assistance due to blizzard, fire and high winds that occurred earlier in the year. Separate maps available hereshow those counties.
Information about USDA and SBA programs and links to applications are listed below the map, along with tables of eligibility dates.
USDA
Farm operators in designated counties (primary designation or as an adjoining county) who meet eligibility requirements can apply for the Farm Service Agency's emergency loans. Applications must be made within eight months of the date of the declaration. Loans help cover part of actual losses. Evaluation criteria includes
Extent of losses
Available security (collateral)
Repayment ability
See the fact sheet attached at the bottom of the is page for details.
Other non-disaster program that may provide assistance include
Contact the local USDA service center for details on eligibility and the application process. More information is also available at disaster.fsa.usda.gov.
(Article continues below the following table of dates)
USDA Designation

County

Primary

Adjoining

Alamosa

25-May-18

Arapahoe

3-May-18

Archuleta

25-May-18

Baca

8-Mar-18

29-Mar-18

Bent

29-Mar-18

3-May-18

Chaffee

16-May-18

25-May-18

Cheyenne

3-May-18

Conejos

25-May-18

Costilla

10-May-18

25-May-18

Crowley

3-May-18

Custer

29-Mar-18

16-May-18

Delta

26-Apr-18

25-May-18

Dolores

10-May-18

El Paso

16-May-18

Elbert

3-May-18

Fremont

16-May-18

Garfield

3-May-18

Gunnison

25-May-18

Hinsdale

25-May-18

Huerfano

29-Mar-18

25-May-18

Kiowa

3-May-18

Kit Carson

3-May-18

La Plata

10-May-18

25-May-18

Lake

16-May-18

Las Animas

15-Mar-18

10-May-18

Lincoln

3-May-18

Mesa

12-Apr-18

25-May-18

Mineral

25-May-18

Montezuma

10-May-18

Montrose

26-Apr-18

25-May-18

Otero

12-Apr-18

3-May-18

Ouray

10-May-18

25-May-18

Park

16-May-18

Pitkin

25-May-18

Prowers

29-Mar-18

3-May-18

Pueblo

3-May-18

16-May-18

Rio Grande

25-May-18

Saguache

10-May-18

25-May-18

San Juan *

25-May-18

San Miguel

10-May-18

Teller

16-May-18

Washington

3-May-18

* San Juan received an SBA-only primary
SBA
Non-farm businesses impacted by drought conditions may be eligible for low-interest Economic Injury Disaster Loans from SBA. The loans can be used by small businesses and non-profit organizations that depend upon farmers and ranchers to help offset losses from reduced revenue caused by drought. Businesses that have been directly impacted are also eligible.
The loans are based on financial impact, not property damages. Loan rates are typically below four percent for businesses, and under three percent for private non-profit organizations. Terms up to 30 years are available for loans up to $2 million to help meet financial obligations and operating expenses which otherwise would have been met if not for impact of the disaster.
SBA Economic Injury Disaster Loans become available when the Secretary of Agriculture makes an agriculture disaster designation. Most of the SBA designations in Colorado have been paired with a USDA designation, however San Juan county received an SBA-only designation. San Juan is eligible for USDA assistance as an adjoining county to a USDA-designated county.
Businesses primarily involved in farming or ranching are not eligible for the loans and should explore options under USDA programs.
Applications can be made online at disasterloan.sba.gov/ela. Information is also available by phone at 800-659-2955 or email at disastercustomerservice@sba.gov.
As with USDA programs, applications must be made within eight months of the disaster designation.
SBA Designation

County

Primary

Adjoining

Alamosa

25-May-18

Arapahoe

3-May-18

Archuleta

25-May-18

Baca

8-Mar-18

29-Mar-18

Bent

29-Mar-18

3-May-18

Chaffee

16-May-18

25-May-18

Cheyenne

3-May-18

Conejos

25-May-18

Costilla

10-May-18

25-May-18

Crowley

3-May-18

Custer

29-Mar-18

16-May-18

Delta

26-Apr-18

25-May-18

Dolores

10-May-18

El Paso

16-May-18

Elbert

3-May-18

Fremont

16-May-18

Garfield

3-May-18

Gunnison

25-May-18

Hinsdale

25-May-18

Huerfano

29-Mar-18

25-May-18

Kiowa

3-May-18

Kit Carson

3-May-18

La Plata

10-May-18

25-May-18

Lake

16-May-18

Las Animas

15-Mar-18

10-May-18

Lincoln

3-May-18

Mesa

12-Apr-18

25-May-18

Mineral

25-May-18

Montezuma

10-May-18

Montrose

26-Apr-18

25-May-18

Otero

12-Apr-18

3-May-18

Ouray

10-May-18

25-May-18

Park

16-May-18

Pitkin

25-May-18

Prowers

29-Mar-18

3-May-18

Pueblo

3-May-18

16-May-18

Rio Grande

25-May-18

Saguache

10-May-18

25-May-18

San Juan *

2-May-18

25-May-18

San Miguel

10-May-18

Teller

16-May-18

Washington

3-May-18

* San Juan received an SBA-only primary