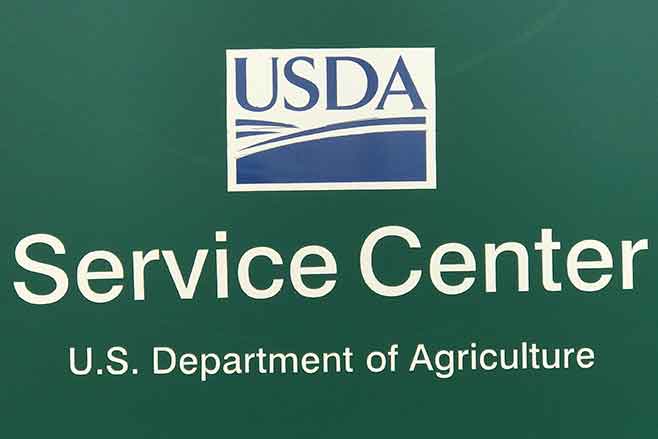 Published
Sunday, September 2, 2018
IMPORTANT DATES TO REMEMBER:
COUNTY FOR CRP EMERGENCY GRAZING THROUGH SEPTEMBER 30th
CRP Emergency hayed bales - removed from field by September 15th
Apply for Livestock Forage Program - Call office for appointment.
NAP COVERAGE DEADLINE- December 1st, native grass
FARM LOAN Personnel in Kiowa County Service Center - Tuesday, September 11th- CALL FOR AN APPOINTMENT
FSA County Committee Meeting - TBA
2018 ARCPLC Enrollment deadline - September 30, 2018 _ EXTENSION RECEIVED
Continuous CRP Grassland Signup 201 -Offers being accepted - $5.00 per acre rental rate
Disclaimer: Information in this UPDATE is pertinent to Kiowa County FSA only. Producers reading this and that do not have FSA interest in Kiowa County are advised to contact their local FSA Office.
AGRICULTURE TOWN HALL MEETING
Colorado Congressman, Ken Buck and Congressman Mike Conaway, Chairman of the House Ag Committee will be holding an Ag Town Hall meeting in La Junta on Monday, September 10th.
MARKET FACILITATION PROGRAM
The FSA Office received preliminary information regarding the Market Facilitation Program that FSA office will be implementing in the coming weeks. This program has been is for producers who have directly impacted by illegal retaliatory tariffs, resulting in the loss of exports. The local FSA offices have not received training for implementing the program; however the basic information provided is as follows and is subject to change.
Information provided to producers explains that signup will begin on September 4th; however again the local FSA offices have not received training for the program; therefore in Kiowa County the office will not begin signup until Monday, September 10th. MFP payments will be available to those producers who had an ownership interest in the crop on acres that were planted (prevented plant acreage not eligible) and reported to FSA for the 2018 crop year. Producers who reported such an interest are eligible for MFP payments, provided all other eligibility requirements are met.
PAYMENT COMPUTATION
Eligible producers will receive a payment based on 50% of the producer's total production of the commodity. In December, 2018 an additional payment rate, if applicable will be announced for the other 50% of the production.
Payment rates announced in August are as follows; crops listed are only relevant to Kiowa County.
Soybeans - 1.65 bushel
Wheat - 0.14 bushel
Grain sorghum - 0.86 bushel
Corn - 0.01 bushel
Hogs - $8.00 per head (number of head as of August 1, 2018)
Kiowa County producers will have only the 2018 harvested wheat production available at this time. How the offices handle fall production will be provided at training.
Example: Producer has interest in 1,000 bushels of wheat and has been determined eligible for MFP.
Payment is computed as follows: 500 x .14 x 100% = $70.00
Sequestration rates could apply.
ELIGIBILITY
Crop producers or entity must meet allof the following requirements to be eligible for an MFP payment:
The producer must reflect an ownership share of an eligible planted crop for crop year 2018 on FSA form FSA-578, "Report of Acreage".
Producer or entity must be considered 'actively engaged in farming' for 2018, average adjusted gross income may not exceed $900,000; and producer must be in conservation compliance
The producer must complete an MFP application.
Again, the FSA office hasn't received training on this program; there could be additional details that could affect eligibility for the program.
2017 FINAL ARCPLC PAYMENT RATES ANNOUNCED
FSA Office will issue payments to eligible producers with approved 2017 ARCPLC contracts in October. The 2017 final payment rates for PLCwere announced on August 30thfor the following crops;
Wheat - .78 bushel
Barley - .48 bushel
Oats - zero
Final rates for remaining crops (except sunflowers) will be announced the end of September.
The rates for ARC-COare as follows:
Wheat - $4.72
Barley - $4.47
Oats - $2.59
Once the yield is known for the county and the commodity, the ARC-CO actual revenue can be determined.
ARC-IC Farms -
Payments cannot be computed for ARC-IC farms until the Marketing Year Average rates for all commodities planted on the farm in 2017 are announced. If the ARC-IC farm producer only planted wheat for 2017; the payment can be computed.
Again, ARCPLC payments are NOT issued until October.
DROUGHT MONITOR
There were some notable changes made to the Drought Monitor for the week; the area in the SW corner of Kiowa that a few weeks ago was designated as a D4 - exceptional drought has been moved to a D2 - severe drought designation. The drought authors urge producers to submit impact reports to document drought conditions in their areas. The website to complete an impact report is droughtreporter.unl.edu/submitreport. Inforation about conditions across the state can be found in this article.
Kiowa County FSA Committee
Destiny Haase - LAA 2 - Central area - Committee Chairperson
Sean Harkness - LAA 1 - East area - Committee Vice-Chairperson
Michael Zimmerman - LAA3 - West area - Committee Regular Member
USDA SERVICE CENTER CONTACT INFORMATION
Telephone 719-438-5851 FSA (Ext 2), NRCS (Ext 3). FSA Fax number: fax2mail 844-332-7501
E-mail individuals firstname.lastname@co.usda.gov (Example firstname.lastname@co.usda.gov, dawna. weirich, charla.ferris, hallie.barlow, marvin.watson, marlin.miller
KIOWA COUNTY FARM LOAN CONTACT INFO - CALL FOR AN APPOINTMENT
Telephone 719-336-3437 (ext2) Mary Rhoades, mary.rhoades@co.usda.gov
SERVICE CENTER OFFICE HOURS:
Monday through Friday - 8:00 a.m. to 4:30 p.m. Friday, by appointment only.
FSA INFORMATION
For information on programs visit our website located at www.fsa.usda.govor like us on Facebook, or follow us on Twitter.