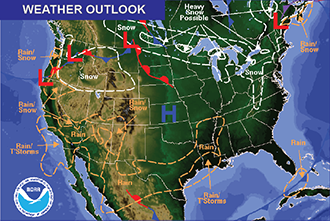 Published
Friday, December 30, 2016
By Chris Sorensen
Although earlier forecasts had a potential for snow Friday, an above-normal high near 60 eliminates that possibility. Overnight Thursday, an upper level ridge of high pressure kept skies clear with minimal wind in most areas.
Saturday's high will reach into the upper 30s under partly sunny skies before falling to the mid-teens overnight.
Sun and upper 40s will mark the first day of the new year Sunday, ahead of an overnight low near 20. Monday's high then cools to the low 40s, further dropping to around 10 overnight to start a string of days below freezing.
For Tuesday through at least Thursday, conditions will be unsettled as an upper disturbance interacts with easterly flow that could bring snow and occasional gusty winds to the state.
Look for a high in the low 20s Tuesday, and a chance of snow Tuesday night as the low falls to around 0.
Wednesday's high will be in the upper teens before again falling back to 0 overnight. The potential for snow - although currently slight - continues throughout the day. Similar conditions are expected Thursday.
KiowaCountyPress.net now offers a free forecast update emailed to you each morning around 6:00 a.m. To start, send an email to kiowacountypressweather+subscribe@googlegroups.com for a quick signup process. Then, just reply to the message sent back to you to confirm your email address, and you're done! You'll start receiving the weather forecast the next morning. There's no cost, and you can unsubscribe any time.