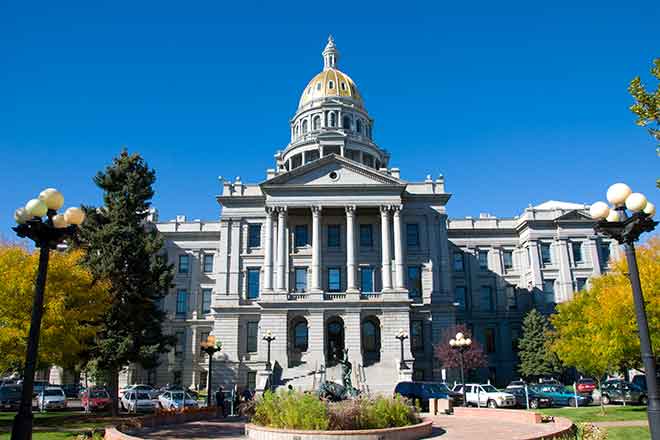 Published
Tuesday, June 16, 2020
(The Center Square) - Colorado's General Assembly officially concluded Monday following a tumultuous session amidst the COVID-19 pandemic that caused significant parts of the state's economy to shut down.
The legislative session was originally scheduled to adjourn sine die on May 6, but was forced to take a temporary adjournment starting on March 14 because of the pandemic. That legislature reconvened on May 26, and quickly got to work trying to make up lost time. Lawmakers also took another brief timeout citing Denver's protests in the wake of George Floyd's death while in Minneapolis police custody.
COVID-19 significantly altered majority Democrats' legislative priorities for the session, forcing lawmakers to grapple with a $3.3 billion budget hole from the coronavirus-induced economic recession.
Despite the unusual session, lawmakers passed several significant bills in response to COVID-19 and also police brutality.
"The fact that our state legislature completed the state budget, did their important work including coronavirus response, and did it in a safe way that showed the people of Colorado that even in challenging times we will not sacrifice democracy," Gov. Jared Polis said during a news briefing on Monday.
Here are some key pieces of legislation lawmakers passed since the General Assembly returned from its temporary adjournment.
Police Reform Bill
Senate Bill 20-217 was introduced following protests in Denver after Floyd's death. The bill, which was passed on Saturday, found broad bipartisan support in the Senate following amendments.
The legislation seeks to increase law enforcement accountability by ending the use of qualified immunity as a legal defense and requires officers to intervene when excessive force is used by fellow officers. Polis has already signaled his support.
Vaccine Bill
Senate Bill 20-163, which was passed on Saturday, requires parents to present an exemption form signed by a family health or immunization provider if parents want to opt their child out of required vaccines needed for public and charter school admission.
Democratic backers of the bill cited the state's low vaccination rates as a reason for passing the legislation.
Gallagher Amendment
Colorado voters will decide if the Gallagher Amendment should be repealed, thanks to Senate Concurrent Resolution 20-001, which passed with bipartisan support.
The resolution asks voters to repeal the amendment that requires 45 percent of property taxes in the state come from residential properties while 55 percent come from businesses.
The legislature passed an accompanying bill that will freeze the state's property assessment rate if voters decide to repeal the Gallagher Amendment.
State Budget
The General Assembly passed the state budget (House Bill 20-1360), which included significant cuts due to a projected $3.3 billion budget shortfall after COVID-19 brought the state and national economy to a halt.
"The impact of COVID-19 on Colorado's fiscal health is almost incomprehensible," said Sen. Moreno, D-Commerce City, who serves on the Joint Budget Committee. "But despite being faced with a seemingly insurmountable challenge, we have been able to create a budget that continues to safeguard education and prioritize critical human services."
COVID Relief
Lawmakers passed a bill package for COVID-19 response that allocates $70 million in federal CARES Act funds.
Among the bill's provisions is one that allocates $5 million to help cover utility bills, one that establishes a small business recovery loan fund containing $250 million, and another that allocates $20 million for small business grants.
Alcohol To-Go
Senate Bill 20-213, which passed it's final legislative hurdle on Monday, will allow restaurants and pubs in Colorado to offer alcohol for takeout and delivery services for the next two years.
The bill essentially extends an emergency order from Polis that has allowed to-go alcoholic beverages during the COVID-19 pandemic.
Tax Fairness Act
Colorado Democrats introduced the Tax Fairness Act (House Bill 20-1920), which they said would eliminate loopholes in the state's tax system by adjusting tax expenditures. The proposal, however, didn't have the support of Polis and was criticized by the business community.
Over the weekend, Democrats and the governor reportedly struck a deal, according to The Colorado Sun.
The updated bill, which received final approval from both chambers on Monday, expands the earned income tax credit from 10 to 15 percent - as opposed to the original 20 percent proposal - starting in 2023.
The updates also mean the state's education fund would receive $113 million, significantly less than the original bill.
Tobacco Tax
Lawmakers passed a bill to ask voters if taxes can be raised on tobacco and nicotine products in the state, which would raise over $400 million in revenue.
The proposal, if approved by voters, would increase the cigarette tax from the current $0.84 per pack to $1.10 per pack its first four years, then $1.40 per pack for the next three years, followed by $1.80 per pack after that.