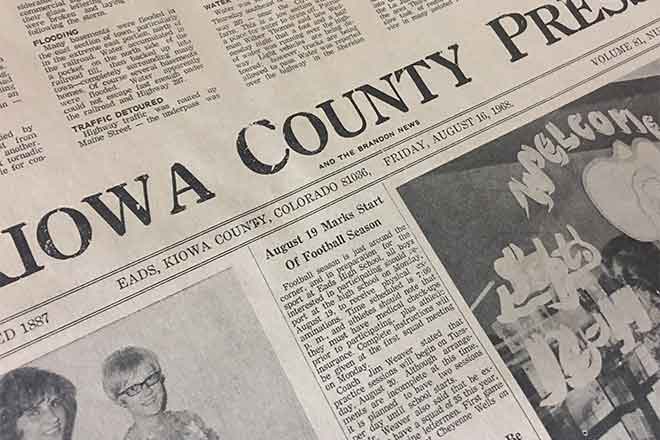 Published
Saturday, February 4, 2017
15 Years Ago
February 1, 2002
USDA in the process of establishing a uniform data base of producer names and address that will be used by all agencies within USDA
About Town: We took a ride south of town to see "The Little House" on the Prairie. A small structure is being built, but it looks comfortable.
Plainview School held a potluck for the community. Afterwards a meeting was held to discuss the declining enrollment of the school.
25 Years Ago
January 30, 1992
May be winter but oilmen are warming up the old patch in Kiowa County. The area north of Chivington the warmest spot right now.
Towner Tales: Several farmers have decided to chisel their fields after surveying the damage from winds the prior week.
Mark Forsyth a marketing geophysicist/director of marketing for the Far East Operations office in Singapore was headed back to Singapore after spending Christmas with family.
At the suggestion of the Post Office, we began routing out of state papers directly to Denver. Let us know if you are receiving at the same time or later A few years ago it was suggested to send to Colorado Springs instead of Denver for faster delivery.
40 Years Ago
February 4, 1977
President Jimmy Carter declared Kiowa County and 12 other Colorado counties drought disaster areas.
Jury trial of a an charged with assault on a Colorado State Penitentiary guard has been moved to Kiowa County on motion for charge of venue.
Kiowa County officials ask the state to take over maintenance of county road 89 south of Towner and 63 south of Haswell.
The finals of the 2nd annual girls state high school basketball tournament will be televised live and in color
Kiowa County Undersheriff bob Howeton is one of 27 law enforcement officers who will graduate from Colorado Law Enforcement Training Academy
50 Years Ago
February 3, 1967
USDA signs a MOU with Kiowa County agreeing to furnish technical assistance to Kiowa County farmers and ranchers
Almost everyone from Towner attended the Eads Plainview game in Eads. It was reported the most enjoyable game of the year with Plainview wining by 10
75 Years Ago
January 23, 1942
With a great deal of disappointment people of Kiowa County learned the drilling of the test well south of Towner has ceased.
January 30, 1942
Harve Musselman was promoted to Area Superintendent of W.P.A. for the counties of Kiowa, Prowers and Baca.
100 Years Ago
January 26, 1917
John Blair was in Lamar and narrowly escaped being arrested for speeding. John says he was just running in intermediate. but may have looked swift to Lamar officer especially as John looks prosperous, was an outsider and Lamar always needs money.
February 3, 1917
W.G. Wilmot former merchant of Eads who sold his store to G.G. Leppert & devoted his entire time to his ranch, has now sold his cattle & purchase stock goods from Mr. Leppert