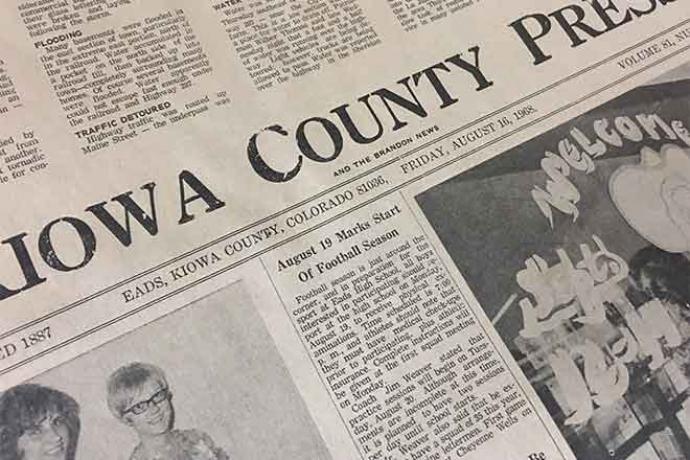 Published
Saturday, January 21, 2017
15 Years Ago
January 18, 2002
Plainview School offers free admission to our home ballgames for area senior citizens
Eads School K-12 Library chosen for 3rd year in a row, the prestigious Power Libraries Project, a program sponsored by the Central Colorado Library System
25 Years Ago
January 16, 1992
A task force from Haswell argued their case for keeping the Haswell School open
Deidre Davis won the 8 & 9 year old hoop shoot at Lamar. She made 18 of 25 attempts and advances to the next level of competition.
40 Years Ago
January 21, 1977
Some Kiowa County grain growers will be left holding the bag in the aftermath of the mysterious disappearance of the owner of 3 Geronimo Elevators in Kiowa County.
Keith Wissel asked Kiowa County resident to join a letter-writing campaign in hopes proving to the Division of Wildlife the county favors storage of state-owned water in Queens reservoir.
Johnny Jacobs won 1 first place and several other placing at the Colorado Pure Seed Show.
Help may be on the way for drought-stricken famers and ranchers in Kiowa County. Gov. Dick Lamm asked 16 counties be declared eligible for federal disaster assistance.
For Sale in Kiowa County, 1260 Acres. $70 per acre. Cash
50 Years Ago
January 20, 1967
Three Eads High School students, Juanita Frazee, Shirley Rose and Cheryl Simmons chosen to attend the "Top of the Nation Honor Band".
75 Years Ago
January 16, 1942
Received from Towner correspondent, the Snell No.1 oil test well reached a depth of 6000 ft.
100 Years Ago
January 19, 1917
County attorney James C. Lang went to Denver to interview the State Highway Commission regarding a north and south highway. The commission decides to declare the present county road running south from Kit Carson to the Santa Fe Trail a state highway.