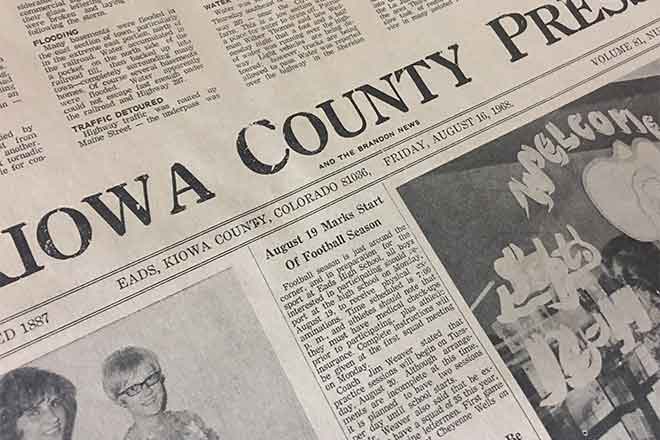 Published
Friday, September 9, 2016
Pages from the Past
15 Years Ago
September 14, 2001
Over the next 10 to 12 months, Kiowa County and the Kiowa County Economic Development Foundation have committed to the creation of a fountywide, long-range comprehensive plan.
Kiowa County 4-H members brought home numerous prizes from the recent Colorado State Fair. In fact, more than half of the Kiowa County 4-H projects exhibited at the State Fair placed in the top ten of their class.
Darci Weeks of Eads will be the Kiowa County Rodeo Queen next year, and Dally Jo Lessenden of Haswell will be the Princess.
Wild Horse Roundup-Curtis Schrimp: Something strange happened around here over the last couple of days Friday Morning, it rained 0.80 inches and hailed. Saturday morning , it rained again a little over 0.50inches. We haven't been used to that lately. I know it cooled off enough to start a fire in the wood stove.
25 Years Ago
September 12, 1991
Parents at Eads Elementary voted to reinstate the Halloween costume party, Easter egg hunt and Christmas gift exchange.
Pastor's Car "Bar-B-Cues" Sheridan Lake: Ten minutes after returning home from a Jamboree practice in Eads, Pastor Dan Loper heard a knock at his door. The young lady apologized for bothering him, but it appears his car is on fire. When Pastor Loper stepped out he found his vintage station wagon appeared to be trying to start itself. And smoke was rising from the hood.
40 Years Ago
September 3, 1976
Kathy Johnston of Arlington was named 1977 Kiowa county Free Fair & Rodeo Queen. Junior Queen is Shelly Swim of Eads and Tiny Tot Queen Lori Shalberg of Sheridan Lake.
.The Market value of all agricultural products sold by the 383 farms in Kiowa County in 1974 amounted to $22,878,000 according to a preliminary report of the 1974 Census of Agriculture released this week by the U.S. Department of Commerce's Bureau of the Census.
The Weisbrod Memorial County Hospital Board, gathering in a series of secret meetings this week, voted to "to not give Dr. Scott Geller staff privileges at Weisbrod Hospital.
Kiowa County Sheriff's Posse Queen Sheila Mayo of Chivington will be competing this weekend in Grand Junction for the statewide title of Colorado Sheriff's Posse Queen.
50 Years Ago
September 9, 1966
Eads is more than active this week with the hundreds of visitors for the fair. Then too are a number of workman staying here while working in the Brandon oil fields.
65 Years Ago
September 14, 1951
Miss Donna Aldrich was named he first Kiowa County Fair Queen. She was Chosen from a group of 20 contestants. It was the first time affair queen contest had been held in the county.
75 Years Ago
September 5, 1941
At a meeting of the County Board last Wednesday the District Supervisor was present and plans were approved for the Food Stamp Plan for Kiowa County.
100 Years Ago
September 15 1916
For 2 hours yesterday morning the threating weather seemed quite discouraging to the Eads people who had made big preparations to entertain a large crowd of visitors, but by 10o'clock the clouds had