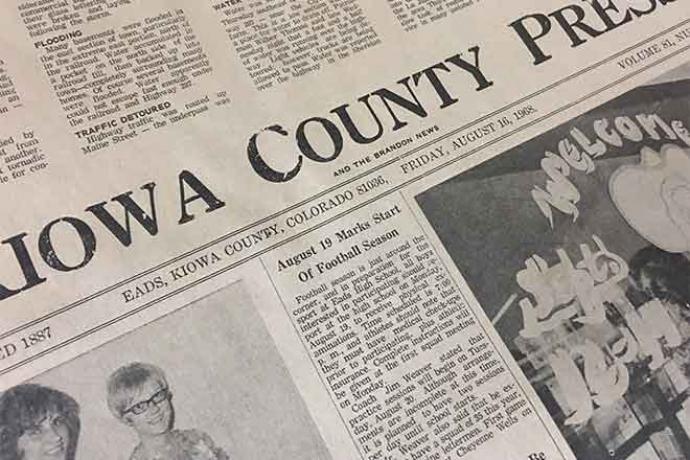 Published
Saturday, December 10, 2016
15 Years Ago
December 14, 2001
USDA Update Rod Johnson: Farm Bill debate continues. It is still a tossup just when we will see a new bill.
25 Years Ago
December 12, 1991
Letter To the Editor: Last week was one of the most exciting and frustrating weeks I've experienced in over 25 years as school superintendent. First rumor had it making over $100,000 a year. I thought maybe the school board felt the job I was doing was so great they were giving me a raise and hadn't told me. Then I heard I was making $65,000. My dilemma - maybe I wasn't so great and lost $35,000. Oh well next week will be something new! I don't know what, but excitement, frustrations and even challenges- they all seem to pay the same.
40 Years Ago
December 10, 1976
Citizens urged to try doctors now in Eads
Potpourri: It is a sad commentary on our times that the word "honesty" has been replaced by "old fashioned"
Mrs. Margaret Brown of Chivington chosen 1976 Kiowa County Farm- Ranch Woman of the Year
50 Years Ago
December 9, 1966
Result of hearing in Eads, the Colorado Public Utilities Commission, has granted permission for the Missouri Pacific Railroad to close its station and agency in Haswell during the "off season".
National Western Stock Show reserve seats only $2.50 evening. Sat & Sun Matinees $2 and Week Day Matinees $1.25. General Admission 75C/ Children under 12 - 50C/