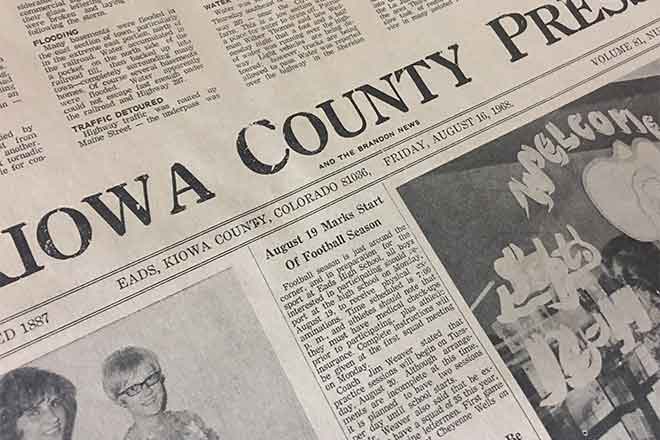 Published
Saturday, November 5, 2016
Pages from the Past
15 Years Ago
November 9, 2001
John Wesley Brown, a lifelong resident of Kiowa County, will be receiving the Korean War Service Medal.
Mostly dry, dusty conditions prevailed in Colorado this past week. Weather allowed producers average 7 days suitable for field work but overall moisture supplies to deteriorate.
Anyone who like to sing is invited to come to the first Christmas Cantata practice.
Paul and Glenda Stoker, with the assistance of Donald Oswald, Greg Miller, and others, served a great fish fry at the Haswell City Park.
Plainview class of 2001 will be having a one-act play entitled Wanted: One Groom.
25 Years Ago
November 7, 1991
Kiowa County was almost back to normal Tues. after a slow-moving storm system dumped up to a foot of snow last week,
Weisbrod Memorial Hospital & Nursing Home faces a projected deficit for the end of fiscal year 199of more than $108,000
The Plainview Hawks finished the regular season in a three-way tie for 2nd place in class A 6 man Southern Division Football League.
40 Years Ago
November 6, 1976
Amended Kiowa County Budget seeking to raise mill levy 3 mills instead of 5 has been approved by the State Department of Local Affairs.
Republicans in Kiowa County carried every contested race in Tuesday's general election.
Sheriff Larry Watts thanked members of the Kiowa County Sheriff's Posse-Search & Rescue for contributing their time to assist during the Halloween Holiday.
KLMR has received a permit from the FCC to construct an FM radio station in Lamar according to Dennis Behan, president of KLR Inc.
Direct Distance Dialing - DDD comes to Sheridan Lake, Towner and Hartman November 1
50 Years Ago
November 4, 1966
Karen Ann Teeter was awarded 1st place in Junior Division of the 20th annual Make It Yourself With Wool contest.
Ceil Crocket was dressed in his Sunday best to attend the Democratic rally. The plan was he and Betty were to stop by Mr. & Mrs. Lynn Taylor and the group would proceed to Granada. Instead a surprise birthday party was planned..for Ceil.
Buddy E. Wiser principal of Haswell Elementary School has been chosen to appear in 1966 edition Who's Who Colorado edition.
75 Years Ago
October 24, 1941
The Eads Lions Club devoted their meeting to the discussion of the turkey market problems for this season.
Our new streamline train The Colorado Eagle and its identical twin, construction is moving forward at a rapid pace at the Philadelphia plant Budd Manufacturing.
100 Years Ago
October 27, 1916
The parties who broke into & robbed Wolver & Co. store was taken from a freight train the following morning at Scott City KS.