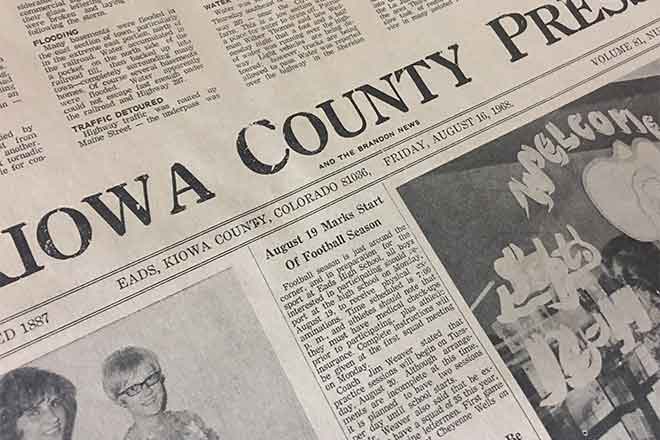 Published
Friday, March 3, 2017
15 Years Ago
March 1, 2002
Tiffanie Gooden helped drive the Eads Lady Eagles into the school records & surpass the century mark with a 101-50 win over Springfield
Kenan Gooden became the 2002 Colorado State Champion in the Elks Freethrow Contest making 23 of 25 throws
About Town: Some of these winds have played havoc with fences. My neighbor's fence all up again. I recognized her son Tom working on it.
25 Years Ago
February 27, 1992
By a one vote margin, Kiowa County RE-1 ordered the closing of the Haswell Elementary as a cost-saving move
Mike Beeson was the Monday Night Mens top bowler, bowling 102 pins over his average
Plainview School received the School of Excellence Award. Very few schools in the state receive this award which surpass goals of achievement, attendance and graduation mandated the State Department of Education.
40 Years Ago
March 4, 1977
An emergency tillage program has been approved for Kiowa County after a visit by high-level state and federal agricultural officials.
Representatives from TX Department of Agricultural & one from CO to assist grain growers in claims against Geronimo Elevator Co which has been in receivership after disappearance of its founder
Potpourri: Betty Jacobs is asking the question of the day. Have you written your letter to Colorado Division of Wildlife requesting it store water in the reservoirs south of Eads.
Kiowa County board of commissioners have adopted a county land use work plan calling for a solid waste disposal study, initiation of a water resources study and photogrammetric mapping of the county
A estimated 92000 acres of land in Kiowa County has been damaged by wind storms so far this winter according to SCS. Another 185000 are in condition to blow if moisture doesn't come soon.
50 Years Ago
March 3, 1967
Exploration for oil has resumed in Kiowa County, with two tests presently underway- by two different concerns
Grazing restriction had been lifted in a 7 county area in eastern Colorado due to present drought conditions.
75 Years Ago
February 27, 1942
Where are the fellows who were advocating legislation to prohibit "over-aged" automobiles from using the highways? Probably looking for one now with a good set of used tires.
100 Years Ago
March 2, 1917
John W. Blair is making arrangements to establish an up-to date hardware store in Eads
Eastern Colorado Telephone Co of Brandon has ordered a new ten-line switch board and fifty miles of wire for the extension of its lines. One of the first will be to Chivington which will give eastern Kiowa County an extensive phone system
Mr. Luther Davisson and Miss Edna Carlton of Black Lake sprung quite a surprise on their many friends by hieing away to Lamar and getting married
Fire destroyed a lot of feed on the ranch of W.E. Despain northwest of Sheridan Lake. Origin of the fire is not known. About fifty auto loads of men from the surrounding country were present to assist in preventing the fire from destroying the house and barn and to keep it from starting on the prairie as the wind was blowing and prairie fire would be very disastrous.