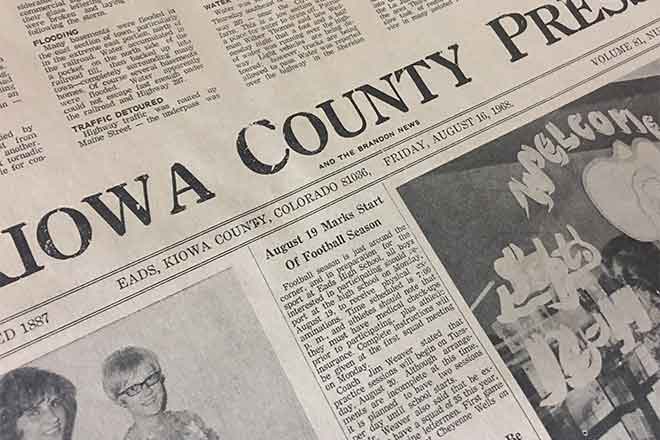 Published
Saturday, April 15, 2017
15 Years Ago
April 12, 2002
Great Plains Oil LLC, based in Kiowa County, shipped its first divider oil, a new product used in bakeries.
USDA Update: A drought situation continues to persist in Kiowa County. A small amount fell in the Sheridan Lake area & east. The most we have heard was .45 south of Towner
Wild Horse Roundup-Curtis Schrimp: I lost an old friend this week when the Bookmobile made its final run.
25 Years Ago
April 9, 1992
In District 15 (Baca, Cheyenne, Kiowa & Prowser Counties) civil filings declined from 200 to 171 cases a drop of 14.5%.
Biological warfare has come to Kiowa County. Beneficial insects are being released to wage war on insects that imperil the county's wheat crop.
40 Years Ago
April 15, 1977
The prices farmers get for their products are too low, a survey of the offices of more than 100 members of the U.S. House & Senate has shown.
Elden Reinert Farm Bureau insurance agent in Eads, was presented the one-half million dollar award from Western Farm Bureau Life Insurance Co.
50 Years Ago
April 14, 1967
The Ark-Valley Citizen Band Radio will hold their next meeting in Eads.
75 Years Ago
March 27, 1942
Uncle Sam called 5 more Kiowa County boys to the colors. They are Leonard H. Parker, Roy H. Barber, Hurschel D. Bishop, Edgar W. Van Schooten and Pete H. Kasza
100 Years Ago
April 6, 1917
The past 2 months, Contractor J. H. Peck & his forces of bricklayers, carpenters & cement artists have been building H.R. Sunday's new garage and C.T. Auston resident in Eads.