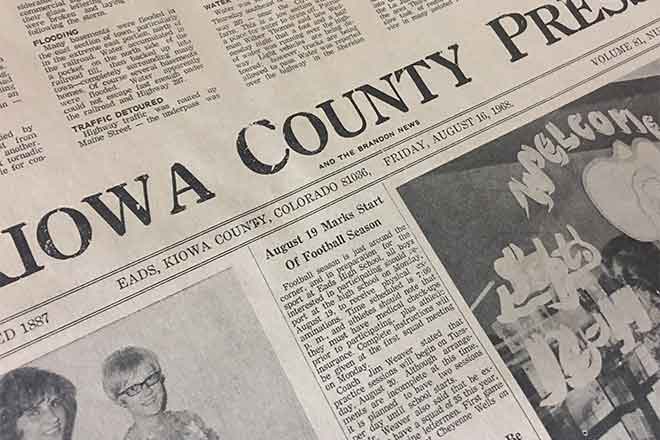 Published
Sunday, April 23, 2017
15 Years Ago
April 19, 2002
USDA Update-Rod Johnson: Kiowa County for the first time with at least part of the county in Stage D2 severe Drought. There is just 2 categories beyond D2. D3 Extreme & D4 Exceptional drought
25 Years Ago
April 16, 1992
Recall election for four Kiowa County RE-1 school board members set for Tuesday April 21.
Two Eads natives have taken over Taste A Treat, the fast food eatery along highway 287
President George Bush has declared 1992 the Year of the American Indian
40 Years Ago
April 22, 1977
George Jacobs of Eads was named outstanding conservationist of 1976 by Kiowa County Soil Conservation District.
A total of 1226 voters are registered & qualified to vote in the May 3 school board election in Kiowa County
Elimination of Saturday mail delivery is again under consideration by the Postal Service
50 Years Ago
April 21, 1967
Over 80 people braved the strong winds to watch equipment being demonstrated at Stubble Mulch Demonstration
A newly constructed hanger at the Eads airport was blown to pieces and a airplane inside heavily damage by strong winds.
Stagecoach was playing at the Plains Theatre. Seventy-five cents for adults and fifty cents for children.
75 Years Ago
April 17, 1942
Sheriff C.A. Wood will receive into custody Thomas L. Lewis & his wife, the former Ethel Wescott, & take them to the pen at Canon City. The event has been delayed about 10 years through legal proceedings, which on two occasions found the defendants guilty of embezzlement.
100 Years Ago
April 20, 1917
Following cases were disposed of: People vs. Burgess, charged with assault with intent to kill. Defendant plead guilty to assault & was sentenced to one day in jail & assessed a fine of $10 & cost. People vs Art Collins & Paul Foote, charge grand larceny. Defendants plead guilty & sentence was suspended during good behavior.