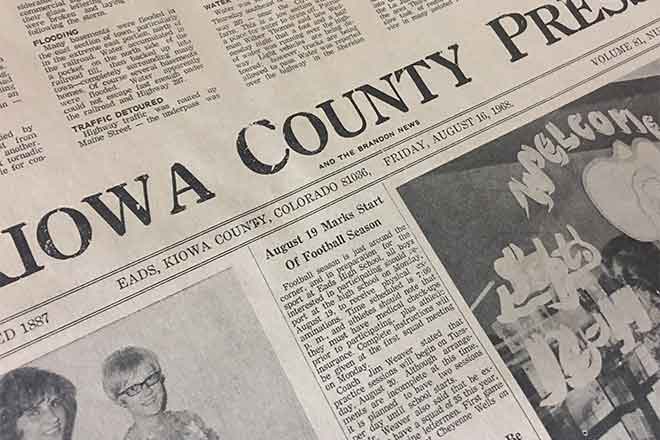 Published
Wednesday, May 17, 2017
15 Years Ago
May 17, 2002
Wild Horse Roundup-Curtis Schrimp: Ladies club met Thursday. Not quite as big a crowd as usual, but the food was good and so was the visiting.
USDA Update-Rod Johnson: Due to the signing of the new Farm Bill, the FSA Offices have been advised they are to stop processing reconstitution of farm units
25 Years Ago
May 14, 1992
Governor Roy Romer and county commissioners from six southeastern Colorado counties agreed to work together on creation of a state park at the Great Plains Reservoirs.
Governor Romer announce he appointed Eads Attorney Gary Davis to replace Keith Wissel as county judge.
Towner Tales: Now most of the wheat has headed out, farmers are looking for the earliest harvest in years.
Mary Marble was the final winner of $50 lottery bucks in the weekly Run for Fun drawing. The entry was submitted by the former Chivington Postmaster was plucked from the entry box by Jerry Jones, Eads Postmaster. Just a coincidence folks
40 Years Ago
May 20, 1977
The Secretary of Agriculture designated 17 Colorado counties, including Kiowa, as disaster areas because of the March blizzard.
Federal Disaster Assistance Administration will announce drought designation for all 63 counties in the state in the next few days.
Nine seniors to graduate at Plainview, and Eads to graduated 32 seniors.
50 Years Ago
May 19, 1967
Oil exploration in the Brandon field is gaining national acclaim proven with the article in The Oil and Gas Journal.
100 Years Ago
May 18, 1917
We certainly regret to announce that C.G. Solquist lost all chickens, turkeys and incubators by fire. Mr. Solquist was just getting started on his poultry farm southeast of town. He lost practically all he had by the fire.
J.E. Snedecor contracted to erect on the corner of 11th and Mississippi, just across the street from the new residence of Miss O'Brien, a story and half dwelling. It is to have five rooms, basement, furnace and bathroom.