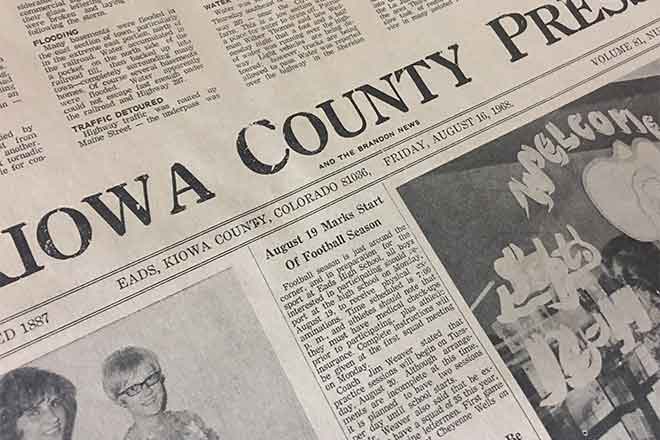 Published
Saturday, August 26, 2017
15 Years Ago
August 22, 2002
Wild Horse Roundup-Curtis Shrimp: I read the 50 year ago news item Eastern Colorado Baseball leagues about Eads beating Wild Horse 24 to 7.
Kiowa County Fair Queen Darcy Weeks represented our county at the Cheyenne Frontier Days in late July.
25 Years Ago
August 20, 1992
A severe thunderstorm spawned several tornadoes in central Kiowa County.
The Weisbrod Hospital Board hired a new administrator. Gerry L Tipsword lives in Ingleside Texas and will be in Eads August 24.
Kit Carson News- Ruby Lafferty: Baxter Black-well known cowboy poet & storyteller and friend Steve from the Rocky Mountain News stopped at the Trading Post Restaurant.
40 Years Ago
August 26, 1977
Monica Richardson was chosen 1977 Kiowa County Fair and Rodeo Queen. Shelly Kay Mayo was selection Junior Princess.
Some 300 out-of-town visitors will be arriving in Eads for the Colorado State Sheriff's Posse Convention and Gymkhana.
Kiowa County and Eads will receive more money from the Highway User Tax Funds this year & next, but the towns of Sheridan Lake and Haswell will receive slightly less.
Leo D. King, a native of Eads, has assumed the position of public relations directory and journalism instructor at Lamar Community College.
50 Years Ago
August 25, 1967
Several attended the auction sale of McNeill ranch south of Haswell. The ranch included more than 8000 acres sold for $31.50 an acre.
Bob Weber of Sheridan Lake played in the North-South All Star Football game.