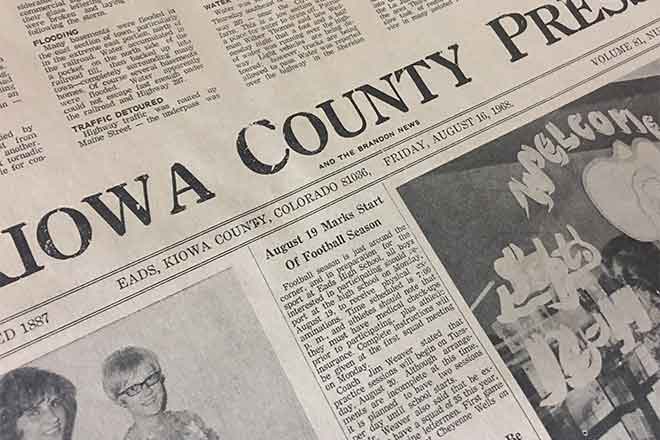 Published
Saturday, March 18, 2017
15 Years Ago
March 15, 2002
Town of Eads became the last of the three incorporated municipalities to cancel this year elections due to lack of candidates.
USDA Update-Rod Johnson: After a wonderful vacation in New Zealand, I am back in the FSA office. I attended a 100-year anniversary tractor show. I have never seen so many tractors in one place.
Micro-burst hit some of Hickman , Kerr and Rittgers Streets and the side streets. There were shingles, trash, branches strung all over and some shattered car windows.
Wild Horse Roundup- Curtis Schrimp: Marty dog started to bark and jump up against the fence. I looked up and saw the largest flock of geese I have ever seen. They were flying straight west. I don't know how to estimate but 500 to 1000. A few days later I saw the largest herd of antelope I can remember seeing. I won't guess the amount or some friends will say I'm stretching thing a little.
25 Years Ago
March 12, 1992
Judge Keith E. Wissel plans to retire after serving many years as the county judge. The fifteenth Judicial District is now officially advertising for a replacement judge in the county court.
April 21 is the day Kiowa County RE-1 voters will decided whether or not to replace four school board members.
Newsham Hybrids is already big business in Kiowa County. It will get even bigger executives for Newsham predicted at a barbecue it hosted..
40 Years Ago
March 18, 1977
A total of 2400 head of cattle valued at $450,000 and fencing worth $30,000 estimated last as a result of the devastating blizzard which struck Kiowa County last weekend.
The lack of loss of human life was considered a happy circumstance inasmuch as vehicles were stranded on roads and highways throughout the county. Two busses loaded with 81 members of an Oklahoma ski club was stranded six miles south of Eads.
Railroad workers from as far away as Kansas City and St. Louis were here to assist, and power association crewmen from Springfield and La Junta were helping our local people with manpower and equipment.
Winds ravaged utility poles in the county. Shorty Musselman said some 300-power poles were down between the town and water wells.
Snow drifted up to 30 feet in parts of Kiowa County, but the tremendous force of the wind blew most of the moisture from parched wheat fields.
50 Years Ago
March 17, 1967
I-34 Thomas expected to be a dry hole, despite rumors to the contrary.
Ralph Hallock sophomore at Adams State College, Alamosa was one of ten students chosen for a Geographical tour of the Grand Canyon and Bryce Canyon.
Haswell Happenings: Weather this week has varied from summer days to high winds and blowing dust.