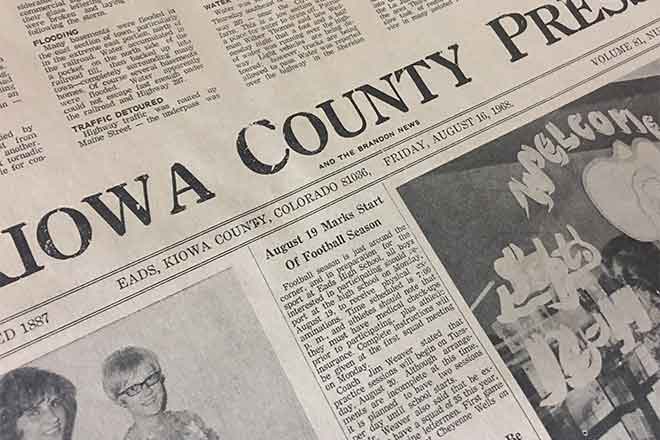 Published
Saturday, April 8, 2017
15 Years Ago
April 5, 2002
Only 5 girls on the Kit Carson track team, but came away fifth out of 14 teams competing in the Lamar Invitational.
25 Years Ago
April 2, 1992
Sunflower Telephone lowered residential rates in eastern Colorado from $13.72 to $13.13 a month. The Company had proposed $19.95 monthly rate.
Ham on Rye: The state redistricted and threw 2 Republican lawmakers into the same district. One of them will have to go.
40 Years Ago
April 8, 1977
A photograph shows Bill Dawson inspecting a tree at the Dawson Ranch. The tree felled by a "misplaced beaver". Thoughts were, the beaver(s) had come up stream on Sand Creek during the flood of 1965 and was trapped when water receded. The beavers now live in several underground springs created several permanent pools.
In what was a precedent-setting decision for Colorado, the high court said Kiowa County Board of Education denied the constitutional right when it refused to let, now graduated, Tammy Beeson play on the girls basketball team
Marci Woods of Eads won Kiowa County spelling contest. Marvin Koeller of Plainview was second and the county's alternate.
50 Years Ago
April 7, 1967
A crew has been busy installing six Brunswick Automatic Pinsetters at the local bowling alley.
The Eads Seniors sponsoring a donkey basketball game. The contest will be between business men of Eads and the Eads senior boys.
75 Years Ago
March 27, 1942
The old Missouri Pacific section houses south of the depot are being demolished. One of these housed pigeons on Fergus Hill before moved to present location.
100 Years Ago
March 30, 1917
W.A. Root is arranging to put in a picture show in the Nips hall. The show will be run by electricity with hopes of up and running by next weekend.
The new Victor Machine for the high school has been installed. They are in use in over 4000 cities across the United States.