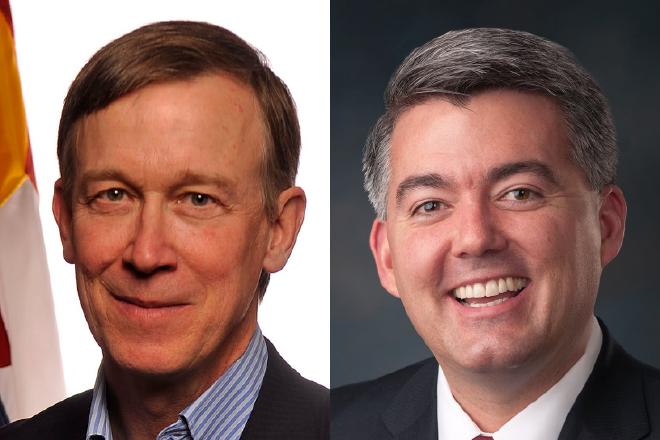 Published
Saturday, October 10, 2020
(The Center Square) - Incumbent Republican Senator Cory Gardner and former Democratic Governor John Hickenlooper faced off in their third debate in the race for one of Colorado's U.S. Senate seats on Friday night.
Colorado Public Radio, Denver7, and the Denver Post hosted the broad-topic debate. It's the third of four in the U.S. Senate election. General election ballots began going out to Colorado voters on Friday.
Gardner, elected in 2014, fights an uphill battle in the polls. After a brief stint running for president, Hickenlooper has faced criticism for a pair of ethics violations he committed while governor.
The full debate can be viewed below or here.
Health Care
In response to a question about what would replace Obamacare, Gardner said he introduced legislation that would protect those with preexisting conditions.
"The Affordable Care Act needs to be replaced," he said. "I believe in a patient-centered plan -- the idea that a patient and their doctor ought to be making decisions."
Gardner said his opponent's health care plan would take 178 million insurance policies away from individuals.
"He believes in a government-run system that puts the bureaucrats in charge," Gardner said.
Hickenlooper defended the Affordable Care Act, saying it "dramatically increased coverage."
"I believe we have to build on the Affordable Care Act," he said, adding "a sliding scale public option gets us a long way there."
Both candidates said they wouldn't vote for Medicare-for-All legislation.
COVID-19 Response
On more COVID-19 relief for people and businesses, both candidates said more needs to be done.
"I think the fact that it's been six months and Washington still can't get its act together is shameful," Hickenlooper said.
Gardner said he would support more stimulus checks while criticizing partisanship as the reason Congress hasn't passed more aid.
Both candidates declined support for a national mask mandate.
SCOTUS Nomination
Gardner reiterated his support for Judge Amy Coney Barrett's nomination to the U.S. Supreme Court. Hickenlooper said the vacant seat, left by Justice Ruth Bader Ginsburg's death last month, should be filled after the election.
Gardner opposed Judge Merrick Garland's nomination in 2016 after the death of Justice Antonin Scalia, while Hickenlooper believed the Senate should confirm Garland ahead of the 2016 election.
Hickenlooper did not directly answer a question from moderators about whether he would support packing the court.
"I don't think that's going to happen," he responded, adding that "it's the people, not the institutions you need to change."
"Once you get new people into Washington, I think the system will right itself," he continued.
Gardner said he would not back court-packing.
Hickenlooper's Ethics Violations
When asked about his ethics violations while governor, Hickenlooper characterized them as "violations as travel I did to promote Colorado."
Hickenlooper added that the allegations originated from a "dark money" Republican operative group, saying the violations were "inadvertent."
Federal Debt
When asked how to handle the U.S.'s debt, which totals over $20 trillion, Hickenlooper criticized the 2017 Tax Cuts and Jobs Act as a handout to the wealthy and corporations.
"The way that we're going to fight our way out of this is we're going to build the economy from the bottom up, and we're going to build it more equitable," he said, also noting the economic recession caused by the COVID-19 pandemic.
Gardner said he supports a balanced budget amendment for Congress, adding "we have to cut spending where it makes sense" while still protecting Social Security and Medicare.
Climate Change, Energy and the Environment
Both candidates said they accept the scientific consensus that humans drive climate change.
Hickenlooper said there would be "three, four, five times more jobs created as we transition to a clean energy economy than we are going to lose from the old economy."
Gardner knocked the former governor as saying he "admitted" to allowing significant job loss in the state's oil and gas industry.
Hickenlooper denied the accusation and said "it's market forces changing our economy" to being clean energy-based.
Gardner touted his sponsorship of the Great American Outdoors Act, which seeks to chip away at a $20 billion maintenance backlog on federal public lands, several times throughout the debate.