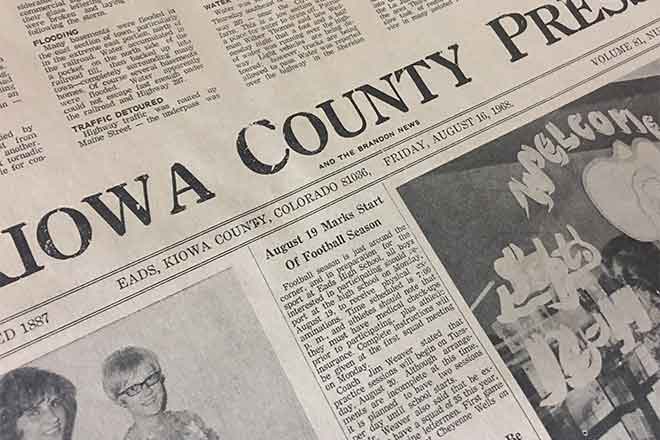 Published
Sunday, February 19, 2017
15 Years Ago
February 15, 2002
Weisbrod Memorial Hospital and Nursing Home Employees offering two scholarships to Kiowa County residents in need of financial assistance to pursue a degree in the health care.
Severe winds hit the county last week causing erosion in several wheat fields due to poor cover from two years of drought and poor planting conditions last year
Wild Horse Roundup-Curtis Schrimp: In case you didn't know it, the wind is blowing again. One reason I know our neighbor called and said some bricks had blown from his chimney. Our dish was bouncing so much I couldn't watch the Olympics. I went out to try to make it steady but couldn't keep my footing.
25 Years Ago
February 13, 1992
Down, down, down was the grim report of the population of eastern Colorado counties between 1980 and 1990. Kiowa County was -12.8%
Eads RE-1 school carryover fund had dwindled to about $100,000 at the end of 1991 according to the school auditor
Ham on Rye: Former Press owner Jack Gardner is sporting a mustache these days. Says it was grown on doctor's orders to help him strain his food..
40 Years Ago
February 18, 1977
Linly Stum and Ralph Hallock testified on the financial needs and the situation in irrigation farms at Senator Bob Dole's Senate Agriculture subcommittee hearing.
Federal Disaster Assistance Administration approved a special "cattle transportation" program for Kiowa County and 13 other Colorado counties
Potpourri: A small town is where you don't have to guess who your enemies are. Your friends tell you,
50 Years Ago
February 17, 1967
Plainview extended their winning streak to 16, clinches High Plains Championship and automatically qualify for the Regional Tournament
Eads High School to be the site of the District Basketball Tournament. The winner of the tournament to advance to the Regional to be held in Hugo.
75 Years Ago
February 6, 1942
Eads Public School will observe Daylight Savings Time.. This means the school will take up and dismiss at the same hour by the clock, except that the timepiece will be set ahead one hour.
100 Years Ago
February 9, 1917
G.G. Leppert after selling his general store is moving to Dallas TX because of his wife health. Mr. Leppert retained part of the goods and will operate a racket store in the south room