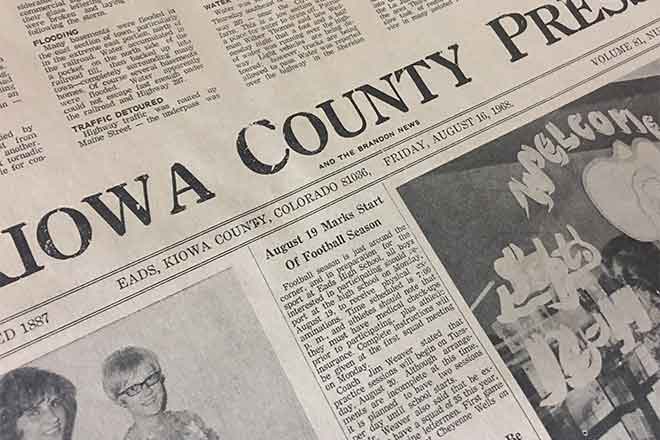 Published
Friday, May 26, 2017
15 Years Ago
May 24, 2002
*
USDA Update-Rod Johnson: Areas of Kiowa County received up to .3 of precipitation but wind plagued the next several days eliminated any benefit. Average precipitation for May is 2.41so we are only12% of average.
*
Wild Horse Roundup-Curtis Schrimp: Something on television really took me back. It was about Charles Lindbergh and his flight to Paris 1927. We were living in Lincol, Nebraska, and he flew over where we lived. I got on the roof of a building next to our apartment when he flew over and could see him very plain.
*
East End Events: Game night Saturday night with about four tables of game players in attendance and everyone had fun.
25 Years Ago
May 21, 1992
*
Several positive cases of bubonic plague have been confirmed in Bent County.
*
The Eads Seniors are in south Texas spending some time while the Kit Carson Seniors are in Florida.
40 Years Ago
May 27, 1977
*
The annual Wild West Day to be held in Hugo. Around of games and contests will begin at 10:00am.
*
Towner News: The Towner community received 3 to 4 inches of rain. Some reported hail. No crop damage reported.
*
Eads board of trustees reluctantly agreed to pay its dues up to date the Lower Arkansas Water Management Assn. in order to retain right to continue pumping 7 days a week from town owned wells northeast of town.
50 Years Ago
May 26, 1967
*
Cheyenne and Kiowa counties have been designated as areas which emergency loans may be made to eligible farmers and ranchers by Farmers Home Administration.
*
Haswell Lumber Company is constructing a house in the lumber company yard that will be the home of Vernon Stone family of Karval
*
Those from Eads qualified for the Regional Bowling Tournament are Jerri Legg, Virginia Weiser, Esther Philpy, Aletha Holcomb and Donna Miller. They represented Eads teas in Lamar leagues this past season.
75 Years Ago
May 22, 1942
*
Patrons in Eads were surprised to learn Mr. & Mrs. Frank Davis had suddenly decided to close their grocery store and market.
*
Herb Ambrosier was in town proudly showing a 22lb. coon he and Don Barr killed on their ranch north of Chivington. It was the first coon some old timers had ever seen.
100 Years Ago
May 25, 1917
*
Active operation began on the building being put up by H.V Fluke and J.W. Blair. The foundation being laid and cellar walls are being put in