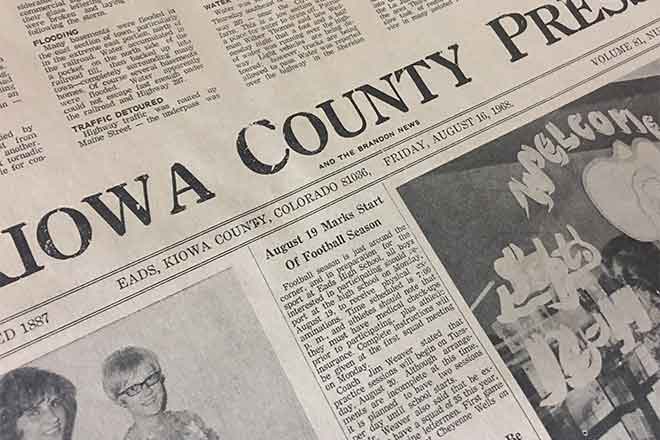 Published
Saturday, March 25, 2017
15 Years Ago
March 22, 2002
Danny Christie has joined Republican Forrest Frazee and Democrats Jack Howard and incumbent Gary Rehm vying for office of Kiowa County Sheriff.
A Special day for athletes and fans as they headed to Pueblo for the Colorado State Basketball Tournament. Along the way they could see purple and gold flags waving on Maine, around homes and highway places of business and then along Highway 96.
25 Years Ago
March 12, 1992
Again this year after the snow and cold , we looked over our apricot tree which was loaded with buds and blossoms, but it was very well frozen.
40 Years Ago
March 25, 1977
Colorado Counties Inc (CCI) had a bill introduced in the general assembly a proposal for increasing salaries of Kiowa County's Commissioners, Sheriff, Treasurer, Assessor and Clerk by total of $ 32,750 annually
A group of Eads citizens has launch a drive they hope will result in construction of tennis court here.
A new bicycle club is being formed for al those who enjoy riding and want to learn more. Gerry Oyen, state patrolman, will be heading the club.
50 Years Ago
March 24, 1967
Fremont Petroleum was attempting to drill clear of an obstruction in an effort to re-enter a test hole drilled three years ago
Haswell Happenings: Weather is like summer, with high temperatures and a few rain clouds but no appreciable moisture
75 Years Ago
March 20, 1942
The Kiowa County basketball tournament, held at Eads was termed by all those witnessing the games, as another step toward creating finer sportsmanship between the schools of the county
100 Years Ago
March 23, 1917
The county credit grade and diploma examination is now in progress at the school building. The questions furnish much of school activity and in some respects it is not altogether a love feast for the pupils. These examinations are in progress throughout the county with the largest number ever taking them in the history of Kiowa County